New Year, New Rug!
Darlings, Happy, Happy New Year Greetings!!!!
The holidays were a whirlwind, and my job has kept me ever so busy since then: Apartment houses, transit centers, shopping plazas, mandatory undergroundings...... it's a constant whirl of activity.
But The Colonel has been out of town, and it was time to spring into action: The rug in the lodge, while of the very highest quality (as one would expect of a rug at Chez Vel-DuRay) had had some rather rough handling at the hands of the livestock. Part of it was unavoidable (Sputnik had some issues in his last days) and part of it willful (Kramer seems to grasp the letter, but not the concept of the whole house training thing, Gladys tends to be leaky on occasions, if you know what I mean) so I thought it was time to give the lodge rug a renovation and much needed rest.
In its place, we have this: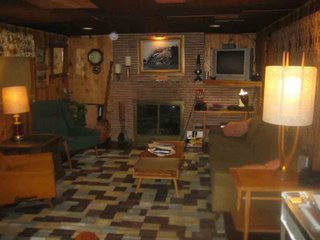 It's made out of something called Olefin, which I sure is dreadfully toxic, but promises to be practically impervious to stains. And at $100 for an 8'x10', how can you go wrong?